Chris Kuran
President

Born a native Californian, Chris grew up in Orange County in an entrepreneurial family. After graduating from the United States Naval Academy and serving his country as a Marine officer, Chris started his first plumbing parts company. Progressing from that start-up, Chris went on to direct the operations of a multi-national manufacturing conglomerate. Throughout this period, he always longed to return to his entrepreneurial roots. His engineering and design background, coupled with his military leadership training and large and small company management experience has prepared him to start, run and lead Waterstone as it continues to grow into an industry leader and symbol of American innovation and design. Chris, Darcy and their four children live in the Fallbrook, California area and hope and pray that their strong family values keep Waterstone a true "family" business.
Steve Kliewer
VP of Manufacturing

After over 20 years of successful business experience in Southern California, Steve joined Waterstone in 2001 as Production Manager. He has owned and directed numerous manufacturing companies and is uniquely qualified to lead Waterstone's manufacturing efforts. Steve's diverse manufacturing and design background has helped propel Waterstone's ability to develop and manufacture leading edge products. Steve lives in Whittier, California with his wife Cindy and has two daughters and a grandson. He was promoted to VP of Manufacturing in 2003 and became a business partner with Chris Kuran in 2004. Their collaboration in design and engineering is a driving force in Waterstone's successful future.
Bob Santella
VP Sales & Marketing

Bob joined Waterstone in 2006 after enjoying over 40 years of success in the kitchen, bath and plumbing industries. He has held management positions in the retail, wholesale distribution and manufacturing segments while working for regional, national and international firms selling in our markets. In 2008, Bob earned an interest in Waterstone and became a business partner with Chris and Steve.Bob is responsible for the market implementation of all products. His knowledge of market channels combined with his sales and marketing leadership provides Waterstone Faucets the elements necessary to succeed in today's changing and challenging business market.Originally from Connecticut, Bob has lived and worked on both coasts. He and his wife Barb reside in the Denver area and have 4 children, 7 grandchildren and 2 great grandchildren.
Waterstone Faucets was founded in 1999 by Chris Kuran.  At its' inception, the company primarily provided top quality parts and finished components to large manufacturers that made and sold drinking water filtration systems.
As the news of Waterstone's quality parts and timely deliveries spread throughout the industry, customers began requesting that Waterstone provide small institutional drinking water taps in custom finishes.
Recognizing these requests as a niche opportunity, Waterstone decided to change course and begin the production of high quality Water Filtration Taps in numerous finishes to match the higher end kitchen taps that were being sold for designer kitchens.
Waterstone then designed and developed its own line of decorative Water Filtration Taps using only the best materials and finishes available. Utilizing the experience of selling certified products to the Water Quality system manufacturers, Waterstone had already created a highly efficient manufacturing system that could make anything it could design while maintaining the highest certifiable quality.
In 2002 Waterstone launched its first line of decorative Filtration Taps and chose to market and sell these products through trained and qualified Kitchen and Bath showrooms throughout North America.  Waterstone successfully changed direction from a manufacturer of Water Quality components to a niche tap company.
The program was a huge success, and the dealers began requesting other niche products. By this time, Waterstone Faucets was selling its filtration tap program in all 50 states and Canada. By designing, engineering, manufacturing, finishing, assembling, testing and packing all products at our manufacturing facility in California, Waterstone had grown in size and had added production capacity in preparation for its next big change. That change happened in 2005, again with the continued encouragement of its customers.
Waterstone made the decision to add Kitchen Taps and related items to its product offerings.  In typical fashion, Waterstone started from the ground up and designed, developed and engineered a full line of Kitchen Tap products to match its Water Filtration Taps.  The guiding focus and desire was to manufacture products that would match the uniqueness of the original ground breaking Filtration Tap designs.
WATERSTONE TAP SUITES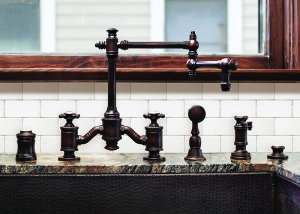 Over the course of time Waterstone has crafted six complete one of a kind Kitchen "Suites" of products.  Each "Suite" has its own look, feel and style that lend itself to a specific decorative kitchen design. Waterstone's concept is to create a matching ensemble of products that cover all the faucetry needs of one's own kitchen. From the patented Gantry Taps to the 14 other matching items in each style, our faucet "Suites" provide everything for the kitchen.  Available in 32 finishes plus solid stainless steel, Waterstone provides its customers and their customers the ability to purchase matching products from a single source.
In 2010 Waterstone developed and introduced the industry's first Positive Lock Pulldown Kitchen Tap (PLP). It is available in both standard and extended reach sizes and can be ordered as the tap only or as a 2, 3 or 4 piece Suite. The PLP is available in all finishes plus solid stainless steel.
As the kitchen has evolved into a central gathering area in the home for family and friends the number of choices of taps has expanded to keep pace with new and spacious kitchen layouts and designs.
Today there are more individual taps and accessories available to perform specific functions. The Gantry, Bridge, Pulldown, Kitchen, Prep, Bar, Filtration and Potfiller Taps are used individually and in conjunction with each other.  The addition of accessory items such as Side Sprays, Soap/Lotion Dispensers, Decorative Air Switches, Air Gaps, Escutcheon Plates, Decorative Hole Covers and matching Decorative Cabinet Hardware have provided the homeowner with a complete array of products for this new "living area"of the home.
When building a new home or remodeling, the homeowner is confronted with many decisions. The kitchen offers the opportunity for personal expression and taste. With so many different faucetry items available it is important to coordinate all of the choices in design style and finish. Matching or "Suiting" all of these elements is the obvious answer. However, NOBODY but Waterstone Faucets has embraced and resolved this issue! Waterstone Faucets is the only American designed, engineered and manufactured product offering that "Suites" your kitchen.  Every type of tap and all accessory items are coordinated to match or "Suite" with each other.
The three Traditional design styles are offered in solid brass construction. The three Contemporary design styles are offered in solid brass and solid stainless steel construction. All offerings are available in 32 finishes plus solid stainless steel. That's true "Suiting" of the kitchen. We invite you to join the growing family of customers who have chosen to "Suite" their kitchen taps and accessories with Waterstone products.  We know you'll be glad you did as you have your next gathering in the #1 room in the home…your kitchen.
Waterstone Faucets future is bright. We hope you will join us in our pursuit of excellence in design, production and service by putting a Waterstone tap in your home!